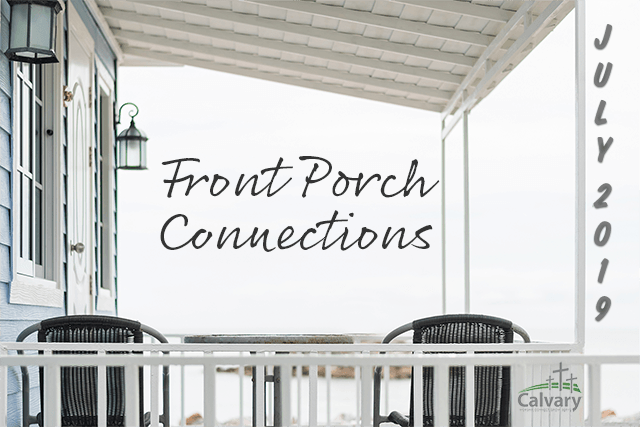 The Calvary community (that means you), is invited to participate in informal fun connection and sermon-based discussion groups at each other's homes.
Save the Dates
Sunday afternoons or evenings in July (7, 14, 21, and 28).
Consider Hosting
Prayerfully consider hosting a 4-week small group meeting each Sunday afternoon or evening at your home for the month of July. You don't need a front porch, you can host on your deck if the weather is nice, or in your living room; wherever is most comfortable.
Each week, hosts will be provided questions to lead discussion based on that morning's sermon.
Suggestions on how to form, prepare for and facilitate your group will be provided.
You can meet at 6pm when we normally have Sunday evening service, or you can choose to meet at another time on Sunday in the afternoon or evening.
If you don't want to host alone, consider co-hosting with another couple or family and decide together who to invite.
Invite 2 to 4 households to join you for all four weeks (invitation postcards will be provided).
Let us know that you are considering hosting a group by completing the Signup to Host form on this page.

We will pray with you and provide more information about what is expected and answer any questions you might have.
Keep checking back here for more details as July approaches.